Resident Stories & Testimonies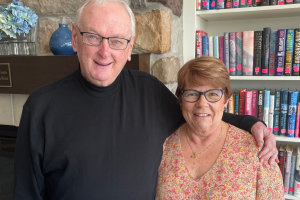 Residents at The Village at Penn State, Barney and Diane: In March 2021, we began to look at retirement communities in State College. We had lived in State College for 16 years, and although we were happy in our home, we felt it was time to begin looking at the retirement possibilities in town. Our thoughts at that time were that we would move sometime in 2023 or 2024 into a retirement community. We investigated several communities in town and we strongly felt that The Village at Penn State would be our choice.
The Village called in December 2021 and said that they had an opening in our desired cottage choice. Diane was on board; I was reluctant. We decided to look at the cottage in question and, after some thought and discussion, we decided to take it. We proceeded to downsize our current home and planned a March 2022 move.
I must tell you that I was wrong. Now that we are here I am a believer. The staff is great. The food is great. The affection of our neighbors is genuine. It feels like a family. The Village is active and offers many activities for its residents.
Diane and I must tell you that The Village has changed our lives in just 6 weeks. We have no more house maintenance and no more stress regarding utilities and upkeep. We are very happy to be at The Village at Penn State!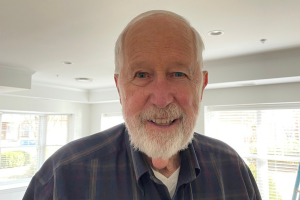 Resident at The Village at Penn State, Lee: Living at The Village has been great. The pleasant people and staff combined with lots of activities make every day enjoyable. The activities include onsite workout facilities and classes, a wide range of clubs, swimming, gardening, as well as many trips around campus and through the region. As one of the residents said to me, "living here with all these nice features makes it 'feel like a warm blanket.'" Too bad I didn't move sooner!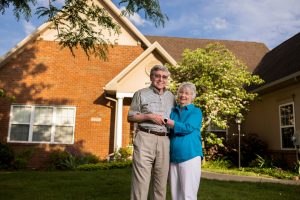 Residents of The Village at Penn State, Paul and JoAnn: At The Village, everything is taken care of for you including cooking, cleaning, and maintenance. It feels great to be free from the stress and anxiety of having to hire someone to fix things. The team members at The Village help us with anything we need. Life here is just so easy.
Discover why Paul and JoAnn love living at The Village! Click here for their story.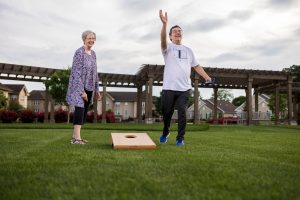 Residents of The Village at Penn State, Paul and Caroline: After living in a two-story home for many years, keeping up with work around the house became quite tiring. At The Village, our lives are so much easier. It's like being on vacation all year-round! The people here are so nice and we've made so many friends since moving in. You can really tell all of the residents love living here, and we're so glad we made the decision to move. We couldn't be happier.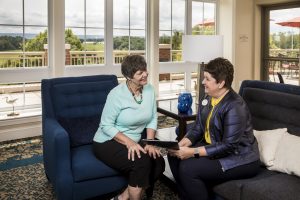 Ellen Corbin, Executive Director: I have had the opportunity to work with Liberty Lutheran for the past fifteen years, and love that my job continues to offer new challenges! Needless to say, there is never a boring day at The Village, but it is the community that remains the most special to me. The staff who work here and the residents are what truly make The Village at Penn State one of a kind.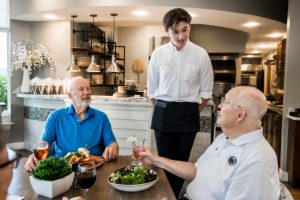 Taylor Nichols, Dining Server: I have been with The Village at Penn State for over a year now, and love calling the community my own. I most enjoy relating to the residents in a relaxed manner. Working at The Village at Penn State allows me to form close relationships with the residents by seeing them on a daily basis.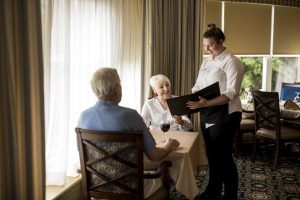 Max & Marge, Residents: We have called The Village at Penn State our home for four years now. It's truly a village atmosphere here. The people are so welcoming. We felt like the community here was a perfect fit after the first visit – it's like living on a cruise ship that never comes to port!
Tina Neff, Housekeeper: I have been with The Village at Penn State for the past four years, and it has always been a positive experience. The residents are always kind and caring, even the ones that I do not do the housekeeping for! I truly cherish all of the friendships that I have made over the years here.
Ron & Hope, Residents: We have called The Village at Penn State our home for over fifteen years now… Fifteen years and nine months to be exact! The two of us have made so many friends, including the staff members like Tina, who are always trustworthy and kind to be around. Everyone here really feels like family.
Are you ready to experience the Village's way of life for yourself? We would love to meet you on a complimentary tour! Let's start today.