Recycling is Serious Business
July 24, 2023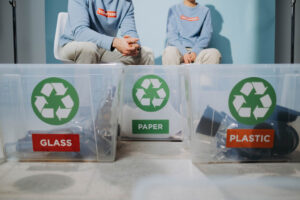 Since 2019, The Village at Penn State's resident-managed recycling committee has been invigorated by active recycling enthusiasts like Jim Tate, committee chair, and six other Village residents who are leading the charge to educate and motivate residents to meet and exceed goals for the community.
According to Jim, "The recycling results over the 2020-2022 years were an astounding 117,058 pounds! This included glass and plastic bottles, jugs and jars; miscellaneous plastic containers; aluminum and steel cans; corrugated cardboard; mixed paper; and shredded paper. One could understandably ask 'what the committee's formula is.'
Simply stated, the recycling committee established a recycling plan. It started with developing a mission statement: "To create a village in which all residents and staff recycle routinely." This is supported by the committee's strategy to provide continuous education—including the why, what, where, and how, along with progress reports on aspects of recycling.
Recycling conserves energy, reduces air and water pollution, reduces greenhouse gases, and saves natural resources. Recyclables have a value, whereas disposing of trash incurs a cost.
Education Begins on Day One for New Residents
On move-in day, Joan Bouchard, the committee's Recycling Buddy, gives a new resident/couple a poster listing all of the items that can be recycled and those that look like they can but cannot; they must be trashed.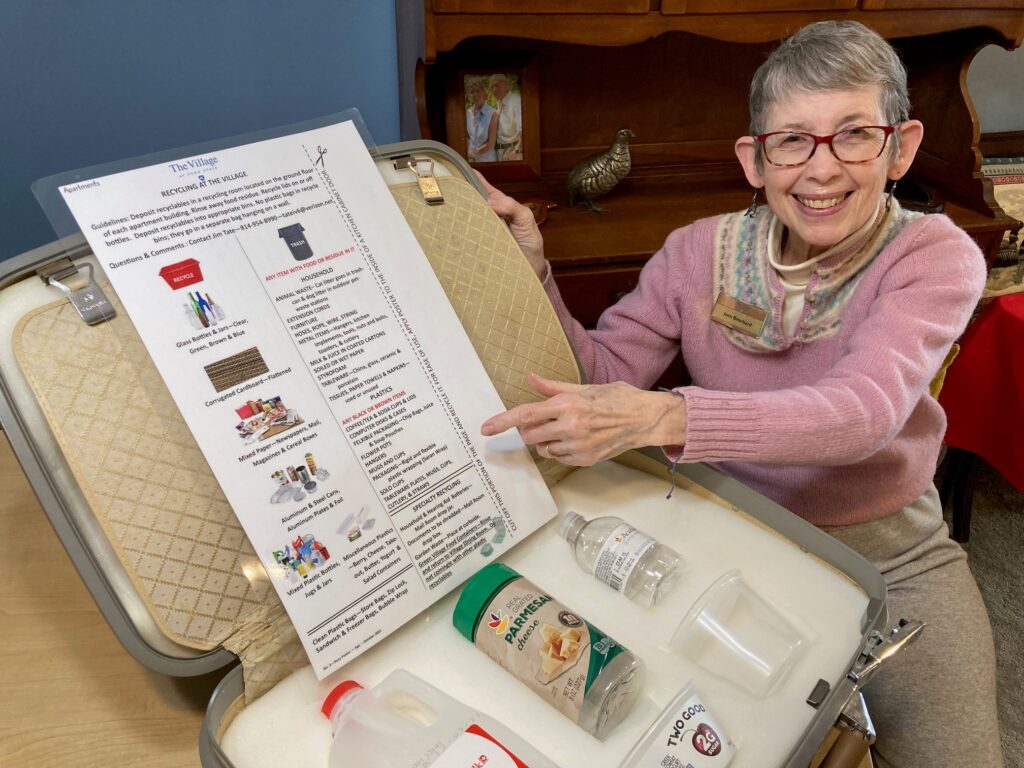 After a couple of weeks, the Recycling Buddy, with her Buddy Case, pictured above, displaying examples of the items that can be recycled, meets with each new resident. It's an opportunity for questions and answers, along with conveying to residents that the recycling committee takes its mission seriously.
Ongoing recycling education
As part of resident awareness and education, the committee arranges a visit twice a year to the Centre County Recycling & Refuse Authority (CCRRA). There, residents observe first-hand what happens to each category of recyclables. Jim emphasizes that all are sold or allocated to different types of processors of recyclables. None ends up in a landfill. Fortunately, Centre County has a recycling and refuse operation that defines excellence.
To report progress on residents' recycling efforts, Jim provides a report on the total tons of each type of items recycled by residents and staff at The Villages' monthly resident council meeting. A recycling article also appears in each monthly issue of The Village newsletter.
Recycling at The Village continues to be a huge success. In fact, the committee was recognized in 2020 for its multi-pronged recycling program with one of two Emerald Awards given to Centre County businesses. "We take our mission seriously," states Jim. "Yet, we make it easy for residents to recycle.